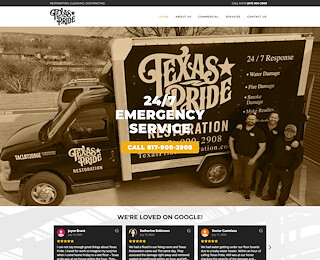 The average homeowners may spend between $1,020 and $4,100 on water damage restoration. Texas Pride has licensed professionals who can help you determine the cause and extent of Flood damage in Fort Worth. We know the factors that have an impact on the final bill and will do everything we can to keep the costs down. Call us quickly after flood damage.
How can I prevent water damage?
It is less expensive to take the necessary steps to prevent water damage than to repair the damage afterward. The most common place to find water damage is the basement. Leaks from floods, clogged gutters, and burst pipes can find their way into the basement.
Various tips can be used to prevent water damage in your basement. For starters, pitch your landscape so that water flows away from your house, including the basement. In addition, install downspout extensions and clean your gutters regularly to prevent blockage. Call Texas Pride to inspect your basement waterproofing and install flood damage prevention equipment including sump pumps and water alarms.
Inspection and insurance
We can also conduct an annual plumbing inspection of your pipes, fixtures, and appliances to diagnose small problems before they cause extensive damage. Call your insurance carrier to inquire about water damage cover. Most policies cover accidental damage, including overflowing washing machines and dishwashers. However, they may not cover water damage caused by natural phenomenon like flooding.
Can I save a flooded house?
Whether or not you can save a flooded house is determined by the extent of water damage. Therefore, call Texas Pride as soon as possible to come and minimize flood damage in your home. Floodwater can cause considerable damage, especially if the impact is significant, like a wave. Once the flood subsides, your house may remain waterlogged for quite some time.
Potential damage
When floodwater moves around your house, it causes hydrodynamic loads that can weaken your house's foundation. In addition, floodwater can carry lots of sand and silt into your home. Pumping water out of your basement may not be the best solution, especially if you are dumping the water into the soil surrounding your home.
Pumping and dumping the water outside can cause the soil around your home to saturate. Once the ground becomes saturated, it causes hydrostatic loads that can cause your walls and floors to collapse.
If your basement and foundation develop cracks as a result of floodwater damage, you will have to replace them altogether. Replacing walls and foundation is more difficult and costly than re-building the entire house again. In addition, if floodwater damage is worth half the value of your home, you will be legally obligated to tear down the structure.
A demolition is also an option, especially if the extent of the damage is significant. However, you will be required to obtain necessary permits before proceeding. The cost of the actual demolition may not be much, but you may spend a lot of money on disposing of the materials because floodwater usually carries lots of contaminants and chemicals. 
Contact Texas Pride immediately you encounter floodwater damage in Fort Worth, TX. We will help you minimize the extent of the damage and salvage your home.
Flood Damage Fort Worth
Texas Pride Restoration
8179002908
11925 Katy Rd
Fort Worth
TX
76244
View Larger Map